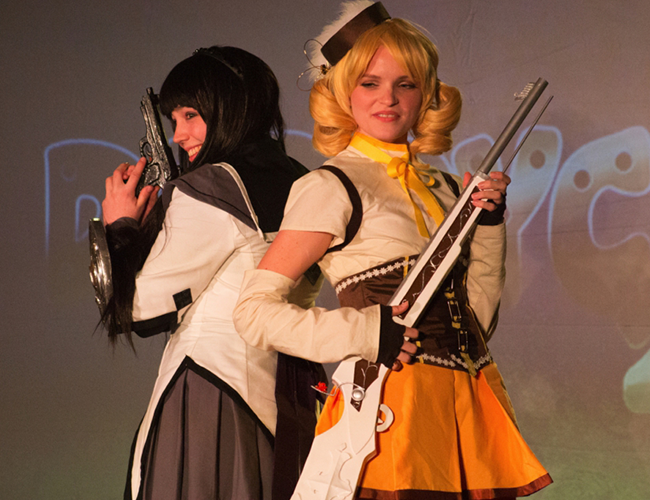 Dance, Act, Sing, & More – the DerpyCon Masquerade is Your Competition!
The DerpyCon Masquerade is an on-stage competition where costumed entires perform in front of an audience. Entries take the form of walk-ons or rehearsed skits which may include, but are not limited to: musical numbers, choreographed dances, comedy sketches, instrumental acts, parodies, drama, and derpyness.
As one of the featured events at DerpyCon, this is one event you will not want to miss. One of the highlights of the con, the DerpyCon Masquerade is an exciting presentation of talent, craftsmanship, and so much more.
Looking to participate? Read the rules and apply below.
If you have any questions, please contact our Head of Cosplay using our Help Desk.
Interested in being a Cosplay Guest Judge? Learn more here.
Masquerade Applications Are Open  Through July 31, 2023
Masquerade Submission Guidelines
DerpyCon Masquerade applications will be accepted through Friday, July 31, 2023 at 11:59:59pm EDT.
To enter the DerpyCon Masquerade, you must be registered as an attendee of DerpyCon 2023.
Check-in for the DerpyCon Masquerade will be held Saturday morning of the convention. Failure to check-in will results in a disqualification of the entry and the slot being opened up to another waitlisted entry. Check-in time and location will be made available online once the DerpyCon 2023 Schedule is set.
All skits must be PG-13 or lower. Please refrain from cursing or nudity on stage – we are family friendly!
There will be a maximum of ten (10) participants on stage at any time in any DerpyCon Masquerade performance; this includes stage "ninjas".
Participants under 13 years of age must be accompanied by a parent or guardian.
Staged falls, as well as smoke, pyrotechnics, glitter, or other special effects that will leave a mess behind are prohibited. Nothing can be thrown into the audience (approval needed) and any item that comes on stage must be brought off the stage at the end of the skit.
Participant's costumes must allow freedom of movement. DerpyCon Cosplay Staff will be unable to assist entrants with their costumes. Entrants must be able to navigate stairs and move around the stage unassisted.
Any participant who does not follow the rules of the DerpyCon Masquerade, misses the line-up times, or does not follow the instructions of cosplay staff during the event, may be disallowed from participating at the discretion of the Head of Cosplay.
Only DerpyCon Masquerade participants will be allowed in the Back Stage Area.
Craftsmanship is optional, but may assist towards Best In Show.
Last Chance Sign-ups (at-con) will be during the rehearsal session and no later than twenty (20) minutes before the end of the time slot.
Performance Information
Time Limit:

All DerpyCon Masquerade participants will be given the following times based on the number of people in a skit. In addition, participants will have 30 seconds prior to and 30 second after the skit time for set-up and break-down. Walk-On entrants are only allowed at most 1 minute on stage.

1 Person – 1:00 Minute
2-4 People – 3:00 Minutes
5+ People – 5:00 Minutes

Awards:

Awards will be handed out for 1st, 2nd, and 3rd Place, as per our judge's choice. The 1st Place winner will win a complimentary Weekend Badge to DerpyCon 2023.

Audio:

You must provide your own music/audio. You must upload your audio in the link provided in the application.Failure to upload your audio may result your application to be rejected.
Recommended Audio Format: MP3, MP4, AIFF, or WAV format at 44.100 kHz Stereo, minimum 16-bit Integer.
If you have any concerns, please do not hesitate to reach out to the Head of Cosplay on our Helpdesk.